The Champ Auditorium Gallery is a Fine Arts display area used to present the work of local artists to the Westminster college community. Art exhibits are rotated on a monthly or bi-monthly basis and the gallery is open for public and campus viewing from 9AM-5PM daily, Monday through Friday during the school year.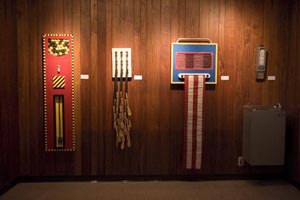 Art work exhibited includes a diverse representation ranging from acrylic, watercolor, oil, and tempra painting, digital and traditional photography, printmaking, ink drawings, and other mediums. Artists may display 3-D works that can be exhibited as a wall mounting, stand-up, or on pedestal mount.
Submissions to exhibit work in the Champ Gallery can be made through contact with the art instructor, Kevin Dingman. All submissions should include images of personal work on a CD and an Artist statement. Please include contact information so that we may be able to schedule an art show in the yearly rotation.
For more information contact Kevin Dingman at (573) 592-5214.