Seize the summer with an unforgettable internship. Gain valuable work experience, and receive course credit if you qualify.
Available in every discipline all over the world.
If you are at least a sophomore with a 2.0 or higher GPA, you could qualify to receive credit for your internship.
The number of credits you can earn depends on the number of hours on site. You can earn one credit for every 50 hours minimum.
Final deadline for registering and turning in required paperwork is June 15; however, it is preferred that you take care of this before leaving campus.
The cost for Summer internship credit is $275/credit hour and will be billed in July.
No retroactive credit will be granted; communication with, and assignments for, a WC faculty sponsor must take place within the dates of the internship.
Contact
Abigail Manwell
, Asst. Director of the Center for Career Development/Internship Coordinator, for more information. Phone: 573.592.5382
More on Internships
Summer Off-Campus Programs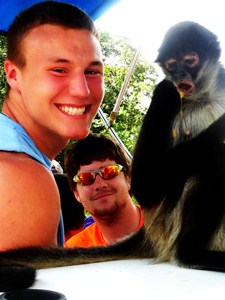 Do you love to learn and travel? Consider an off-campus summer program for credit and adventure! Earn transfer credit at Westminster in exciting destinations all over the world: Experience the University of East Anglia, England (digital animation, theater, psychology, children's health, medieval history); spice up your Spanish in Oviedo, Spain; or freshen up your French in Dijon, France. Or, study international relations, world history, and even taekwondo at Hanyang University in Seoul, S. Korea (instruction in English; tuition & housing fees are waived, too!).
You can also study "away" without leaving the country. Gain practical experience in politics, journalism, and law through Washington Semester's summer in DC. Scholarships are available for many programs, and these are just a sampling. For a more complete listing of off-campus summer, spring, and fall opportunities, see our website:
http://bit.ly/1zpkRKY
For an individual appointment, contact
Dr. Jeremy Straughn
, Director, Study Abroad and Off-Campus Programs, Westminster Hall 145.