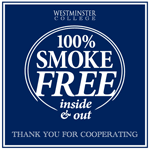 Why did Westminster College become a 100% smoke-free campus?

College Mission Statement: creating a safe, healthy, comfortable environment and enhancing our students' success.
Second-hand smoke is harmful. Scientific evidence indicates that there is no risk-free level of exposure to secondhand smoke. Breathing even a little secondhand smoke can be harmful to your health. http://www.surgeongeneral.gov/library/secondhandsmoke/
factsheets/factsheet7.html
Our students, staff, and faculty supported a smoke-free campus policy. Our campus assessments show that an average of 76% of our campus members supported a smoke-free campus policy. (Fall 2009 data)
Keeping our campus clean with less tobacco litter.
Preparing students for smoke-free workplace.
Respect for others. 88% of Westminster students, staff, and faculty choose not to smoke.
Decrease Smoking Rates. Smoking is the leading cause of death in the United States and stopping smoking at an early age greatly decreases the health risks.

What does "Smoke-Free" mean exactly?
Smoking is prohibited in all indoor and outdoor areas of Westminster campus. "Campus" is defined as all campus owned facilities and property of Westminster College from Jefferson Street to Hackberry St. (east of Hickman) and W. 8th Street to 4th Street. Campus map is available on the Westminster College home page: www.westminster-mo.edu. "Smoking" is defined to include any lighted cigarette, cigar, pipe, hookah, bidi, clove cigarette, and any other smoking product.
Where can you go to smoke?
You can smoke outside of campus boundaries or inside of your personal vehicle. Smoking inside of campus-owned vehicles is prohibited.
What happens if you are caught smoking on campus?
Enforcement of the smoking policy is the shared responsibility of the entire campus. The success of this policy depends upon the courtesy, respect, and cooperation of all members of the Westminster community -- smokers and non-smokers, students and employees. Any members of the college community may take the initiative to inform individuals of the policy and politely ask for their compliance.

Established disciplinary procedures will be applied to individuals who repeatedly violate this policy, which can include fines, community service, and further sanctions for repeated offenses.
What resources is the college providing to assist those that would like to quit smoking or using tobacco?
There is a free program through our Wellness Center that offers nicotine patches, nicotine gum, counseling, and quit kits/plans for students, staff, and faculty. Contact our Wellness Center in the lower level of Westminster Hall or at (573)592-5361.
Who should I talk to about questions or concerns that I have about the Smoke-Free Campus Policy?
Your opinion and feedback are very important to us and we want to help you understand the policy and answer any questions you may have. Please feel free to contact the Dean of Student Life at (573)592-5240 or the Director of Wellness Programs at (573)592-5256.