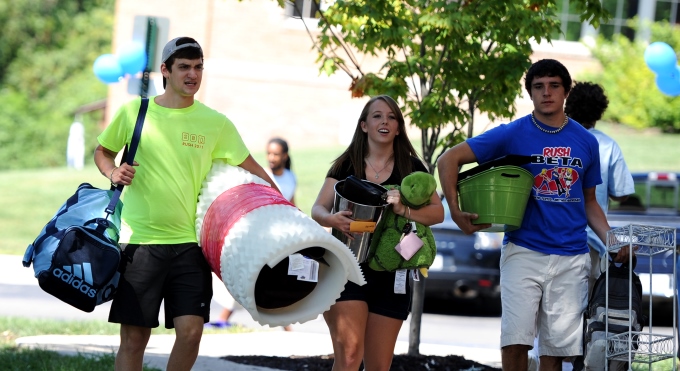 Click here for a printable What to Bring brochure!

It is recommended that a student bring the following:

Bedding:
set of sheets (Mattresses are 35-l/2" x 79" - extra long twin size)
pillow

blankets

pillowcases

washcloths

hand towels

bath towels
Attire:
Because the weather in Fulton varies a great deal, both lightweight and warm clothing are recommended, plus rainy weather attire. While campus dress is casual, there will be occasions when students need dress attire. Sportswear is necessary for various sports and recreation.

Dorm Room Accessories:
Students in college housing provide their own:
Multiple outlet strips
Wastepaper baskets
Desk lamps (halogen lamps are prohibited)
Desk accessories (stapler, tape, pencils, paper, paper clips, etc)
Small dorm size refrigerator (optional)
Microwave (optional)
Radio/sound system (optional)
Television (optional)
Personal computers (optional)
Phone (for land line or cell- optional)
Rugs (Optional - Emerson Hall is carpeted. Other residence halls will generally accommodate a 9'x12' rug or carpeting.)
Window Dressings:
While window blinds are provided. Students are welcome to bring curtains and adjustable curtain rods.
72" width x 63" length in Gage, Marquess, Rice, Scott & Sloss Halls
48" width x 60" length in Sweazey, Weigle, and Wetterau Halls
70" width x 51"length at Emerson Hall
All residence halls are air-conditioned.

The College does not provide linens or linen rental services.

Laundry facilities are available in the residence halls.
Supplied Furnishings:
Westminster College supplies the following for each student in the quadrangle residence halls:
Mattress (35-l/2" W x 79" L - extra long twin size)
Loft Twin Bed (38" W x 84" L x 36" H - adjustable to allow for storage below)
Dresser of Drawers (24-1/4"W x 30.5" D x 30" H)
Wardrobe for Hanging Clothes (24-1/2"W x 36-1/2" D x 75" H)
Desk (24-1/4" W x 42-1/2 L x 30" H)
Wooden Desk Chair