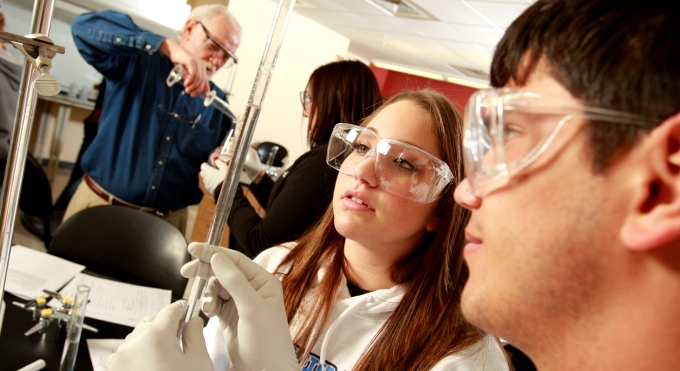 For requirements, please visit the course catalog.


Major Highlights

The Departments of Biology and Chemistry offer an interdisciplinary major program of study leading to a Bachelor of Arts in Biochemistry. The major program is structured into two tracks, biological emphasis and chemical emphasis, to allow the student to pursue a more advanced study of biochemistry to fulfill their particular interests and professional goals. Both tracks require introductory biology and chemistry courses which emphasize fundamental concepts and give students a clear insight into the underlying biological and chemical principles. The Biodiversity, Biological Processes and General Chemistry courses fulfill the general degree requirements for a course in laboratory science as well as serving as foundation courses for biochemistry students.
Contacts


Biological Emphasis:
Name: Dr. Jeff Mayne
Position: Associate Professor of Biology & Environmental Science
Office: Room 223, Coulter Science Center
Email:
Jeff.Mayne@westminster-mo.edu
Phone: (573) 592-5272
Chemical Emphasis:
Name: Dr. Glen Frerichs
Position: Professor of Chemistry
Office: Room 324, Coulter Science Center
Email:
Glen.Frerichs@westminster-mo.edu
Phone: (573) 592-5205
Meet the Faculty
Dr. Mike Amspoker
, Professor of Biology
Dr. Glen Frerichs
, Chair Professor of Chemistry
Associate Professor:
B. Hansert
,
I. Unger
Assistant Professors:
D. Holliday
,
J. Kenney-Hunt
,
J. Mayne
(Chair Biology),
G. McNett
Biochemistry News

Check out what Westminster biochemistry students and alums are doing and get biochemistry department updates.
Biochemistry News