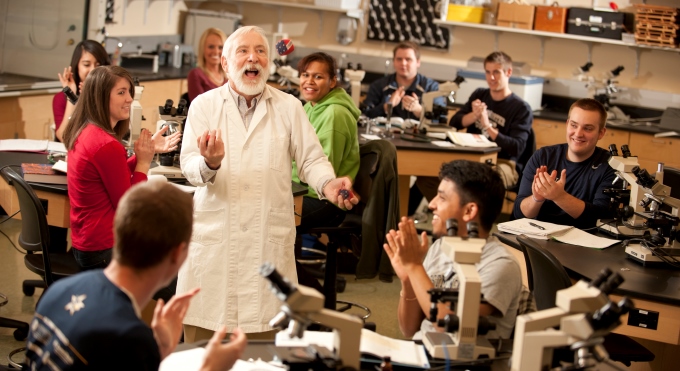 For requirements, please visit the course catalog.

Why Study Biology at Westminster?
Understand the diversity of organisms and biological processes on Earth.
Use innovative ideas, existing research, and coordinated research to improve human health, our food supply, and our environment.
Explore the excitement of new discoveries and shape creativity and critical reasoning skills.
Appreciate the complexity and ecological significance of various life forms and biological processes which are integral to the success of our species and our planet's environment.
Major Highlights

Your biology major at Westminster is quite simply the study of life in all its forms and complexities.
Westminster College will teach you to understand, interpret, and manipulate biological processes and organisms. Among the ranks of Westminster's biology graduates are many impressive doctors and researchers.
Your program will strive for diversity in training and experience-from lab to field work and from group-related to independent projects.
While introductory courses meet the needs of Westminster liberal arts students, they also serve as foundation courses for students with a major in biology.
Your major will expose you to the broad scope and diversity of modern biology which can be used to find careers within the life sciences.
The Biology Department is highly regarded at Westminster; you will have access to new state-of-the-art facilities in the Coulter Science Center.
Cool Classes

The Biology Department offers you the opportunity to engage in off-campus activities as well. For example, during the three-week summer session the department has sponsored various research trips to Belize, Kenya, Peru, and Ecuador (including the famed Galapagos Islands).

The Biology in Belize summer session students along with Professor Mike Amspoker travel to Belize for a three-week exploration of the wildlife and marine life in their Central American habitat is wildly popular.

As a human anatomy/cadaver student, you will actually dissect and study a human cadaver-an experience many medical students only observe. In bioprocesses labs, you learn to test common foods for evidence of genetic medications.

Other Experiences

As a biology major, you will have the opportunity to do independent research and enjoy a wide range of intern opportunities. You will enjoy presenting your research data at regional and national conferences as well as Westminster's own Undergraduate Scholars' Forum, one day set aside from classes for the entire campus community to view student scholarly presentations and projects.

Students who are interested in the biology of humans or who plan to pursue a career in one of the allied health care professions are encouraged to complete the Allied Health (Biology) Minor.

Contact Information
Name: Dr. Jeff Mayne
Office: Room 223, Coulter Science Center
Email: Jeff.Mayne@Westminster-MO.edu
Phone: (573) 592-5272

Name: Dr. Gabe McNett
Office: Room 216, Coulter Science Center
Email: Gabe.McNett@westminster-mo.edu
Phone: (573) 592-5395

Meet the Faculty

Michael Amspoker, Professor Biology
Irene Unger, Associate Prof . Biology
Jeffrey Mayne, Associate Prof. Biology
Gabriel McNett, Associate Prof. Biology
Dawn Holliday, Associate Prof. Biology
Jane Kenney-Hunt, Assistant Prof. Biology


Biology News

Check out what Westminster biology students and alums are doing and get biology department updates.
Biology News