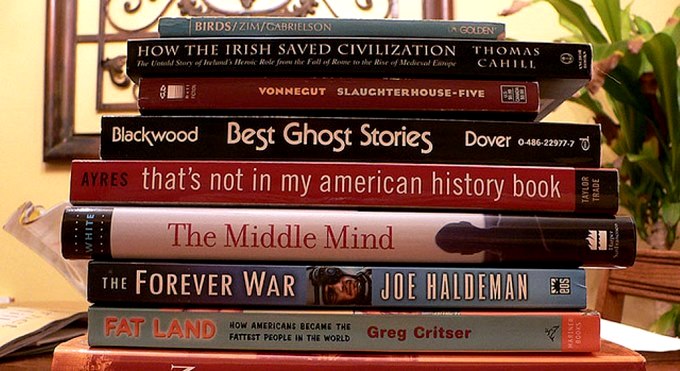 For English major and minor requirements, please visit the course catalog.

Why Study English at Westminster?
Study with full-time, tenure track professors (three winners of Missouri Governor's Award for Excellence in Teaching) who have chosen to teach at Westminster because of the student-oriented atmosphere that allows close interaction and who do on the professional level the same things they ask of you-oral presentations and creative or critical writing.
Develop close faculty-student relationships as the result of small classes, office visits for formal and informal advising, conversations over coffee or at meals, and receptions for visiting writers in faculty homes.
Design a program of study that caters to your interest and needs from three tracks available: literature, creative writing, or English education..
Enjoy active learning with daily engagement in lively classroom discussions made possible by close reading of texts.
Gain the first rate-skills with language that gives you the edge over the competition in a demanding job market.
Major Highlights
English majors at Westminster begin with the basics, survey courses of English and American literature designed to fill in the "big picture," an understanding of literary history that provides the context for more specialized, advanced courses in the junior and senior years. One significant way in which the study of English at Westminster differs from the study of English in many another college or university is what happens once students have built that solid foundation. Most colleges set before upper-class students a series of "period courses": Renaissance Literature, Victorian Literature, American Realism, etc. Westminster students who have gained a command of the basics choose at the upper level from a series of topics courses. Interested in expatriate writing? Try a semester course called American Writers in Paris. Interested in other arts, music or photography, as well as literature? You're going to enjoy Jazz, Blues, and Poetry and The Photograph as a Literary Text. Like to read mysteries or horror fiction? You'll feel very much at home in a course on The Gothic Novel or Detective Fiction in the Nineteenth Century. Make no mistake about it. Though these courses are more than usually interesting, more than usually enjoyable, they are also intellectually rigorous!
Concerned that even though you write well you need to improve, to move up to that "professional" level where publication seems a real possibility? That will happen when you study English at Westminster with faculty members who write and publish regularly and know from experience what you need to know. Every major is required to take at least one course from the "Writing Group" - Journalism, Linguistics, Expository Writing, Introduction to Creative Writing - and most take several. Rigorous, analytical writing is a mainstay of every literature course, and after taking Critical Practicum you'll be ready to research and write closely reasoned analytical papers. Thinking about a career as a writer? Our courses in Media Studies and Magazine Writing and Editing will set you on the way to success!
Cool Classes

Perhaps the single thing that most clearly sets the study of English at Westminster apart from similar study elsewhere is the opportunity to undertake an honors project in your senior year. Essentially a year long independent study initiated by the student and directed by a single faculty member, the topic of any particular honors project is determined by which track within the major - Literary Criticism or Creative Writing - you choose. Projects in literary criticism usually grow out of previous coursework, the desire to investigate more closely a subject that piqued your interest but had to be set aside to get on with other work. Students in the Creative Writing track are free to "mix and match," presenting a manuscript that combines poetry, short stories, and creative nonfiction. Most, however, focus on one genre. More than a few students have written their first novel as a senior project here! And in recent years several students have tried their hands at writing screenplays. In the Journalism/Publishing track, students will complete an internship under the supervision of a faculty advisor. The Honors Project, the capstone sequence for our best majors, epitomizes what the study of English at Westminster is all about - working closely with faculty members who want to see you succeed.
Other Experiences

If you think "English" is something that should not be confined to the classroom, you'll feel very much at home at Westminster. Publishing opportunities abound. Janus, the college literary magazine, accepts poetry, short stories, creative nonfiction, and graphic work - and the best submissions each year are awarded cash prizes. The Columns, Westminster's student-run, campus newspaper, appears bi-weekly and provides student writers with another opportunity to build a portfolio.

The English honorary society, Sigma Tau Delta, is more "active" than "honorary." It sponsors three or four meetings each semester for students and faculty. You can read from your own work, try it out on a live audience; or you can read bits and pieces from authors whose work you admire and want to bring to the attention of others. Many find these meetings to be one of their favorite experiences here at Westminster. Also, you'll have the opportunity at Westminster to meet and seek advice from some of "the greats." The Department of English sponsors several readings each year by nationally known writers. No less than four of America's poets laureate have read at Westminster in recent years: Robert Hass, Howard Nemerov, Mona Van Duyn, and Robert Pinsky. Louis Simpson, a Pulitzer Prize winner, and Albert Goldbarth, winner of the 2002 National Book Critics' Circle Award, have appeared here. And Lucia Perillo, Robert Hellenga, David Kirby, Mark Halliday, Scott Sanders, and Gary Gildner, David Gessner-the list goes on . . . and it is an impressive one!
Career Opportunities
Demand continues to grow for teachers, but the range of fields open to English majors is almost infinite.
Employment in the business world, which prizes critical thinking skills, ability to speak clearly and precisely, and writing clear and precise reports and studies.
Positions as editors or publicists in a publishing firm.
Jobs as political consultants or lobbyists.
Employment in public relations within corporations or public relations firms.
Acceptance in graduate school, law school, journalism school, or management and business administration.
Student Quotes

"The English program at Westminster is a community. The classes are small enough to get to know others. There are a wide variety of fun classes to choose from, and the teachers genuinely care for their students and focus on discussion-based classes. I don't know of many other colleges that would allow me to write a children's fiction book as a thesis, or let me have so much fun while doing it."-Ashley B. Nelson
"When my professor started making weekly trips to my House in order to give me one-on-one attention for my undergraduate English thesis, I knew I had made the right decision to go to Westminster. Now, nearing graduation, with a degree from Westminster College in my hand, I know I am prepared for anything."-Jake Marsh

Contact Information

Name: Dr. Theresa Adams
Position: Professor of English
Office: Room 227, Westminster Hall
Email: Theresa.Adams@westminster-mo.edu
Phone: 573-592-5218

Meet the Faculty

Wayne Zade, Professor English
Theresa Adams, Professor English
Heidi Lavine, Associate Prof. English
Nathaniel Leonard, Assistant Prof. English
Carolyn Perry, Sr. VP of the College and Dean of the Faculty/Professor English
Maureen Tuthill, Associate Prof. English
English News

Check out what Westminster English students and alums are doing and get English department updates.
English News