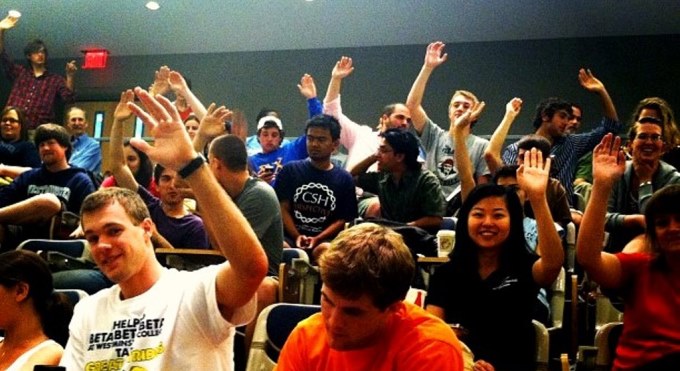 Why study a Self-Designed Major at Westminster College?

Westminster College offers you the wonderful opportunity to design your own course of study. This goes far beyond the possibilities of taking the classes you wish within a particular degree program -- you actually tailor your own major based upon your specific interests and career plans. This option is hard work, but it engages your creativity and will make your Westminster College experience all the more enjoyable and meaningful.
Major Highlights

If you wish to design your own major or minor, the obvious first step is to decide what it is you wish to do. You won't be alone on this. Your freshman advisor will help you decide how to translate your interests and career plans into a major or minor that fits you best.

To complete an individualized degree program through the Self-Designed Major program, a student identifies a faculty advisor and two other faculty members, representing at least two academic divisions; this group constitutes the "committee." The student, with the aid of the committee, develops a proposal for a major under the Self-Designed Major program. One of the members of the committee must be designated as the student's official advisor. The proposal should consist of a general description of and justification for the alternative major and should indicate specific courses to be taken. Generally, a student will begin the work under the Self-Designed Major after the freshman year, but in no case later than the start of the second semester of the junior year. The committee must meet with the student at least once each semester to review progress. A minimum of three semesters must be spent working under an approved plan. A similar process is required for a Self-Designed Minor. Forms are available in the Office of the Registrar.

The student must secure the approval of the Associate Dean of Faculty for the proposed course of study. All proposals and revisions must have the approval of the Associate Dean. Upon satisfactory completion of the work prescribed in a student's plan, the student will be certified as having met the graduation requirement for a major.

Westminster College is a great place to design and plan a major. Not only will you get all the help you need in this all-important decision, but your options are virtually limitless. All of Westminster's departments have intelligent and helpful faculty who really want to see you succeed. The student comes first at Westminster, and every professor decided to teach here with that priority in mind. Any and all divisions will have interesting and dynamic courses to help you on your way.
Cool Choices

Westminster is not a large school, and this works to your benefit. Individual attention is what every student needs, especially if you are trying to find your way on uncertain ground. Students have designed unique majors in Advertising, the Classics, Communication, Public Relations, and even Sports Medicine.

Other Experiences

Whatever your choice, you will have at your disposal all the resources of a highly respected liberal arts institution.Westminster has a great history, full of exciting events of which you can be a part. We have clubs covering business, marketing, chemistry, leadership and service, women's issues, English and literature, and events associated with all of them that will help you get involved and become a dynamic, multi-dimensional person. Westminster is respected in science, language, political science, history, economics, and sociology; if you name it Westminster has it. There is no need for you to be limited in options.
Career Opportunities

No matter what kind of major you designed, you will have a future when you leave Westminster. Our placement of graduates in careers and graduate schools is staggering to say the least; far above the average at 95%. A liberal arts degree from a school such as ours will always be an asset in the world outside of school.
If you designed a science or mathematics major of some sort there will be jobs available for you in the private sector at technology firms, business firms, the government, and more. Graduate school is always an option. With the research facilities and opportunities at Westminster you will be well-prepared for whatever field you wish to enter.
If you designed a major in communications, English, foreign languages, history, political sciences, or a unique combination of those areas, there will be jobs for you in advertising, public relations, business, consulting, teaching, and law to name just a few. Employers are always looking for people with great oral and written expression - skills you will attain during your education at Westminster.
In short, the sky is the limit. Westminster provides you all the resources it has to offer, enabling you to achieve your own unique successes in life.

2014-2015 Self Designed Majors and Minors

Contact Information

Name: Dr. David Jones
Position: Associate Dean of Faculty
Office: Academic Dean Office, Westminster Hall
E-mail: David.Jones@westminster-mo.edu
Phone: (573) 592-5288

Self Designed Major News

Check out news about our self designed major on Westminster.
Self Designed Major News