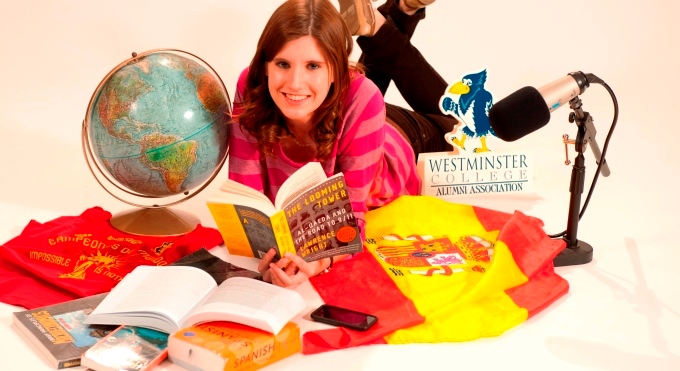 For Spanish major and minor requirements, please visit the course catalog.

Why Study Spanish at Westminster?

In the United States, the study of Spanish is an invaluable asset for any career path. Students who major or minor in Spanish at Westminster will study Spanish in a variety of contexts. he primary mission of the Department of Foreign Languages is to develop communicative competence in its students in line with the Standards for Foreign Language Learning proposed by ACTFL. They will acquire linguistic competency through learning basic structures of the language and, using it as a springboard, they will study culture, literature, medicine, translation, art, business, and history. Learning a foreign language allows students to truly live the Westminster mission and the Columns Concept of being leaders in a global community.
Spanish Major

The Spanish major consists of 27 hours of study beyond the novice level (Spanish 101 and Spanish 102 do not count toward the major). The major has three core courses: Spanish 381 (Advanced Grammar and Composition), Spanish 303 (Advanced Spanish Conversation), and Spanish 353 (Introduction to Latin American Literature). A student can major in Spanish beginning with Spanish 101 in four years.
Spanish Minor

The Spanish minor consists of 18 hours of study beyond the novice level. The core courses of the minor are Spanish 381 (Advanced Grammar and Composition) and either Spanish 210 (Intermediate Spanish Conversation) or Spanish 303 (Advanced Spanish Conversation).

Study Abroad

The Spanish Program has several successful study abroad opportunities for our students. There are fall, spring, and summer study abroad programs in Oviedo, Spain; Quito, Ecuador; and Viña del Mar, Chile. Students live with Spanish, Ecuadorian, or Chilean host-families and actively engage in language-learning both in and outside of the classroom. The Department also actively helps students to find post-study abroad opportunities, such as business internships in Spain, volunteering or interning at medical clinics in Peru, teaching English at an orphanage for girls in Mexico, or interning at law firms in Chile or Ecuador. The Department highly recommends that Spanish majors and minors participate in a study abroad or post-study abroad program.
Career Opportunities

Students who study Spanish at Westminster are employed in fields as varied as education, business, marketing, accounting, government, NGOs, and healthcare. Many have testified that their language-ability has helped them advance in their careers. Other students have gone on to graduate school, to medical school, and to law school. Having the ability to communicate in another language is undoubtedly a desirable skill in today's job market.
Teacher Certification

Students who wish to obtain certification in secondary education must complete the major in Spanish and take all the required classes in the Education Department, including EDU 400 (Methodologies of Teaching a Foreign Language).
Other Experiences

There is a Spanish Club and an academic fraternity, Sigma Delta Pi. Both organizations give students the opportunity to speak Spanish outside of the classroom. The International Club on campus also exposes students to the countries of our international students, many of whom come from Central America, South America, and Mexico.
Student Quote

"A value certainly cannot be placed on the numerous advantages of learning to speak a second language like Spanish, especially given the current population trends. With Westminster's stellar faculty in the Spanish Department, learning the language was not only incredibly fun, but also readily achievable with their guidance and assistance." Clayton Jordan, '09.
Contact Information

Name: Heriberto DelPorto
Position: Professor of Spanish
Office: Room 41, Newnham Hall
Email: Heriberto.DelPorto@westminster-mo.edu
Phone: 573-592-5267

Meet the Faculty
Heriberto Del Porto, Professor of Foreign Languages & Literature
Enrique Salas-Durazo, Assistant Prof. of Foreign Languages & Literature

Spanish Major News

Check out what Westminster Spanish major students and alums are doing and get department updates.
Spanish Major News