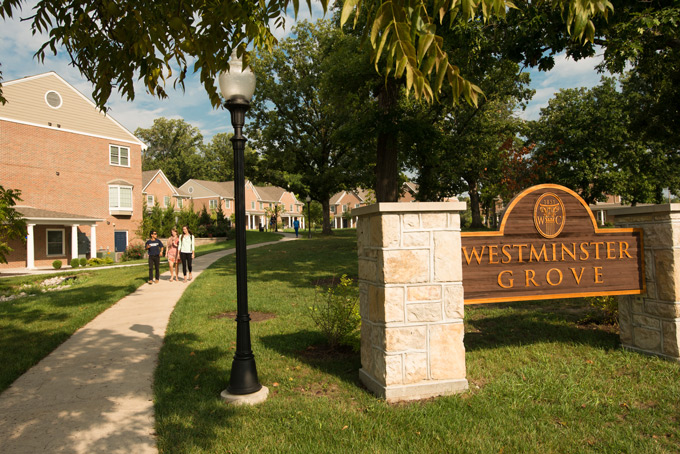 The Westminster Grove townhouses are located at the corner of 7th Street and Hickman Avenue (across from football field). The Groves are open to Westminster students that are of sophomore, junior, and senior status.
Each townhouse has 4 single bedrooms, 1 double bedroom, 3 bathrooms, living room, and kitchen. Four of our 21 units are ADA compliant, one of which is a 3 double bedroom unit. All units come with the following furnishings:
Appliances
Stove
Refrigerator
Microwave
Dishwasher
Garbage Disposal
Washer/Dryer

Living Room


Full-size couch
Matching chair
Coffee table
2 end tables
3 barstools

Bedrooms


XL Twin bed with mattress
3-drawer chest
Student desk
Desk chair
Other Amenities
Cable TV
College LAN
Campus phone
Typical Unit Layout Building Layout More Photos
All college-issued furniture must remain in the unit at all times.
Pets, of any kind, are not allowed. 
Campus Security patrols the complex regularly.
If you have any questions, please email or call the Office of Residential & Greek Life office at (573) 592-5242.