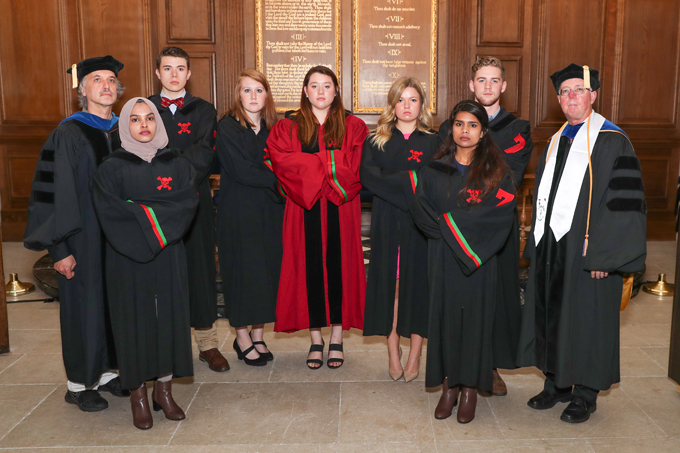 The Skulls of Seven, founded in 1898, is a mystical society dedicated to upholding the traditions and ideals of Westminster College. The members are students in good academic standing who are respected leaders of the Westminster community and who strive to put the college ahead of personal or special interests. The Skulls of Seven is a self-perpetuating body, which encourages applications from all student leaders.
The Skulls of Seven is an honor society that prides itself on commitment to seven virtues: tradition, history, scholarship, loyalty and friendship, citizenship, service, and honor. The Skulls of Seven are defenders of college tradition and are chosen for their adherence to the seven virtues with the duty of upholding these values.
These six seniors and one junior are selected based on their proven devotion to the college and their positive representation of Westminster. This society has existed for over 100 years and is the oldest group on the Westminster campus. The continuing purpose of the Skulls is always and ever the welfare of the college.
2016-2017 Members


Golly Easterly (Grand Marshall) '18


Golly is a senior from Little Rock, Arkansas and is majoring in political science. She has served the college as an SGA senator, the Vice-President of Standards for Kappa Kappa Gamma, a Westminster Seminar mentor, a Remley Women's Advocate, a member of Student Foundation, and the Vice-President of the Missouri Delta chapter of Alpha Chi. She is a member of Alpha  Chi, the 

Order of Omega, Omicron Delta Kappa, Pi Sigma Alpha, and the Westminster Honors Program.

Jeremy is a senior from Ashland, Missouri and is studying Business Administration and Exercise Science.  He is a member of Alpha Lambda Delta, Alpha Chi, and Delta Mu Delta honor societies. He is also the Treasurer of Order of Omega Greek Honorary society. Jeremy is a member of Sigma Alpha Epsilon social fraternity and is a Resident Assistant.


Alec Bise '18


Alec is a senior biology major from Jefferson City, Missouri and is planning on becoming a Nurse Practitioner after he graduates. He is the President of Westminster Student Ambassadors, Secretary of Tri Beta Biology Honors Society, a Westminster Seminar mentor in Fall, 2017, a member of the Performing Arts Club, and a member of Delta Omicron Chapter of Delta Tau Delta.



Annie Mulvey '18


Annie is a senior from Harrisonville, Missouri and is majoring in business communications with a minor in English and a certificate in global literacy. She is the current Vice President of Academic Excellence for her sorority, Kappa Kappa Gamma, the President of the Missouri Delta chapter of Alpha Chi, a member of Student Foundation, a member of Order of Omega, and a member of Alpha Lambda Delta. Annie has held previous positions on the Campus Activities Board and SGA Executive Board and participated in study abroad. Following graduation, she hopes to pursue a career in Public Relations or a related field. 

Rupa Kumari '18


Rupa is from India. She is a UWC Scholar, a senior at Westminster College and majoring in biology with a minor in public health. She is a member of Interfaith House and has actively been involved with the Center for Faith and Service. In the past, she worked as an assistant for the Intercultural Engagement Office, went for sophomore retreat at Colors of Westminster, and was a peer guide for freshmen international students in the fall semester of 2016. She is a member of the Honor Commission, Student Ambassadors, Certified Peer Health Educators and received certification for Green Dot. Besides all these, she is highly involved with various intercultural events and shows on campus.

Sydney Sexton '18
Sydney is a senior from Independence, Missouri. She is pursuing a double major in accounting and international business. On campus, she is a Westminster Seminar mentor and is a member of both Student Foundation and the Honors Commission, and a member of Alpha Lambda Delta freshman honor society and Delta Mu Delta business honor society. She works as Financial Aid Assistant to Jessica Haefke in the Financial Aid Office, and, after graduation, Sydney plans to sit for her CPA and get a job in the accounting field. She also hopes to travel the world as much as possible. 

Fatimath Shafa '18

Shafa is a senior from Baa Dharavandhoo, Maldives and is majoring in biochemistry. She is currently the Vice President of Internal Affairs for Student Ambassadors, a certified peer health educator, a member of Student Advisory Board, Student Conduct Board and Interfaith House. In the past she has been the Logistics Chair of TEDx Westminster College, Vice President of International Club, and Peer Mentor for international students. She has represented Westminster College at the Sixth Annual President's Interfaith and Community Service Campus Challenge in Washington DC, an initiative from the White House. As a campus leader, she was actively engaged in Colors of WestMO, Leadership Retreat, and Bone Marrow Registry Drive. She also participated in Summit on Leadership Development at Washington University, and Meeting of the Minds Conference in Kansas City. She is a recipient of the Davis Scholarship and after graduation she plans to attend medical school.  




Jamey Lemon (Baby Skull) '19
Jamey is a junior from Hannibal, Missouri and is majoring in biochemistry with double minors in music and public health. He currently serves as the Community Service Chair and New Member Educator for Delta Tau Delta fraternity, the Concerts and Comedy Chair of the Campus Activities Board, is a Resident Adviser and a member of Student Ambassadors, Student Foundation, and the Pre-Healthcare Professionals Association. He is also a member of the Order of Omega and Tri-Beta honor societies.