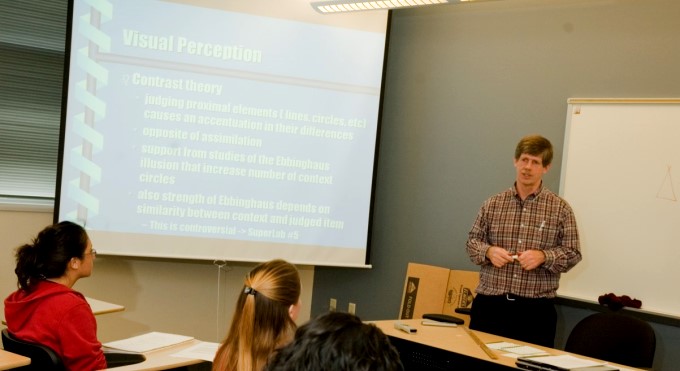 For Psychology major and minor requirements, please visit the course catalog.
Why Study Psychology at Westminster?
Ruggers Recommendations on the Colleges, has recognized Westminster's program as one of the premier undergraduate psychology programs in the country.
Discover how the principles and theories of psychology come alive in small classes with a lot of individual attention from four full-time professors.
Study a wide variety of subjects, ranging from human sexual behavior to addictions, visual illusions, autism, prejudice, or love.
Prepare to use psychology in the 21st century through varied classroom activities, laboratories, internships, and senior thesis experiences.
Enjoy research opportunities in classes and labs so you stand apart from other students in gaining employment or applying to graduate schools.
Learn to excel in communication and interpersonal skills.
Cool Classes

You can train Sniffy the computerized rat
Play Simon to evaluate short-term memory
Play Quake, a computer game that uses strong three-dimensional cues to make an otherwise flat computer monitor portray a 3D world and other 3D games to learn about perception
Use scientific reasoning to figure out whether a computerized tree will grow
Use of luminosity to investigate other cognitive processes
Utilize computer programs to assess your personality traits.
Beyond the Classroom

Past students have participated in the prestigious Summer Science Institute hosted by the American Psychological Association, have won National Science Foundation awards, conducted medical research at the St. Louis University School of Medicine, and participated in APA's Advanced Statistics Institute in Washington, D.C.

Several psychiatric and assistance facilities are located in Fulton, thus, Westminster students have unique internship opportunities at the Missouri School for the Deaf, The Fulton State (mental) Hospital, Biggs Forensic Center, and the Fulton Reception and Diagnostic Center for the assessment of male, State-of-Missouri prisoners.

The best students have the opportunity to join the national honor society in psychology, Psi Chi, and juniors and seniors are eligible for the annual Margaret McDonald Jaeger Award, which provides both scholarship money for undergraduate study and fellowship money for graduate study in psychology.

Career Opportunities
Job opportunities for psychologists are projected to grow 15% through 2016-faster than the average for all other professions.
Psychology majors often pursue advanced training to be clinical psychologists, counselors, school psychologists, industrial/organizational psychologists, and other psychology fields.
50% of Westminster psychology majors attend prestigious graduate programs at schools such as Harvard University, Vanderbilt University, and Washington University.
A psychology major might pursue neuroscience or psychiatry.
A Westminster psychology degree is great preparation for graduate programs in law, business, theology, medicine, and the health professions such as occupational therapy, physical therapy, and speech-language pathology.
Student Quote

"As a student with a bachelor's in psychology and business administration from Westminster, many aspects of the curriculum such as thesis experience, presentation opportunities, and a plethora of papers helped me to surpass the experience level of many of my colleagues in graduate school initially. While the learning environment at Westminster was quite impressive, the professors stood out the most for me as they are truly concerned with the success of each and every student." Ashley Crow, '06
Contact Information

Name: Dr. Abby Coats
Position: Assistant Professor of Psychology
Office: Room 214, Coulter Science Center
Email: Abby.coats@westminster-mo.edu
Phone: 573-592-6121

Meet the Faculty

David Jones, Associate Dean/Professor of Psychology
Abby Coats, Assistant Professor of Psychology
Ryan Brunner, Assistant Professor of Psychology

Psychology News

Check out what Westminster psychology students and alums are doing and get department updates.
Psychology News